Knife Capital, founded in 2010, is a Southern African growth equity fund manager focusing on technology-enabled ventures for a sustainable impact on innovation, job creation and growth.
It is an independent growth equity investment firm focusing on innovation-driven ventures with proven traction. By leveraging knowledge, networks & funding, the firm accelerates the international expansion of entrepreneurial businesses that achieved a product/market fit in a beachhead market. Their offices are based in Cape Town and London where they invest via a consortium of funds under management, including SARS section 12J Venture Capital Company: KNF Ventures and a UK-based family office.
Knife Capital
Knife Capital is a venture capital firm and accelerator specializing in investments in growth equity, expansion capital, and small to mid-cap companies. It does not invest in morally objectionable industries and in seed stage. The firm acts as accelerator for more mature, post-revenue companies.
KNF Ventures is a SARS Section 12J Venture Capital Company – enabling qualifying investors to claim amounts invested as a full and permanent deduction from taxable income. By leveraging the Knowledge and Networks of the broader investor base, combined with Funding, KNF Ventures accelerates the growth of South African innovation-driven SMEs and generate enhanced returns for investors.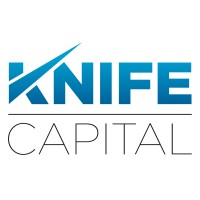 The firm primarily invests in technology-enabled ventures. It seeks to invest in companies located in Southern Africa and other frontier economies across Sub-Saharan Africa. The firm seeks to invest between R10 million and R30 million per first round investment. It prefers to take stakes between 25% and 49%.
Knife Capital believes that tomorrow's largest investment gains will be achieved by companies that are active in solving today's problems. Therefore, their strongest investment interest is in companies which, through technology and innovative management, seem capable of turning African solutions into successful businesses.
The firm enables their portfolio of innovation-driven businesses to achieve scalability across different markets by optimising the business model and customer acquisition process. They assist businesses with transition to international growth by providing market access that expands customer validation to other countries.
They select entrepreneurs who have achieved proven traction with product/ market fit in a beachhead market. This shows that the product solves a real need as it resonates with its target market in at least one country.
At DTC we understand the complexities of the various funding agencies and the unique application criteria for each. We have assisted thousands of entrepreneurs through the application process to access funding for businesses, and we can assist you with the same.
Contact us for more information on funding through Knife Capital.